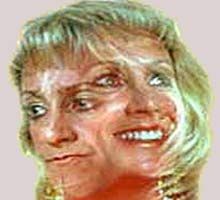 No, you can't go play with your friends!
Why aren't you outside playing with your friends?
When I told my boss about a lunch meeting I'm trying to schedule for tomorrow, I also mentioned that I had a book signing to go to at 1:30.

"A friend just published a book. I was planning on going to the signing during my lunch break."

A little background: The lunch I'm trying to schedule is an early one and, as far as I'm concerned, going to meet a client for lunch is not equivalent to getting a break from work.
That makes sense, right? I should still be entitled to a break.
Here she turned into a raving lunatic, said something about not letting me go and then changed her mind saying, "Do whatever you want," then said something else about it taking too long.

What I thought: "So, like, yeah - I don't really know what you just said... Is that a 'yes' or a 'no'?"
What I said: "It's not a big deal."

It is a big deal ... which is why tomorrow she'll most likely ask me if I'm still going to that "book signing thing." And, that will be followed by, "You should really go. It's important." I guarantee it.

On that note, I was talking to the doorman this morning and he suggested that my boss is probably going through menopause. And if that's the politically correct term for 'bipolar' then, by golly, I think he's onto something.