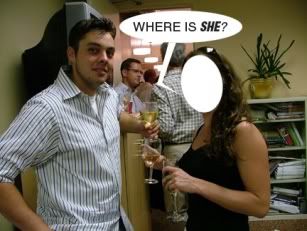 "Pretending you're a snob who is making fun of a snob is the best form of entertainment ever.
For, remember kids: Mimicry is nature's preferred form of flattery."

In my undying quest to save money, I've made it a point to start frequenting the cocktail hour type events that I (or someone in my office) get invited to. Usually these consist of some type of product/book/brand promotion and they always involve passed horsdeurves and cocktails, i.e. free dinner.

Last night the New York Institute of Culinary Education hosted such an event, honoring the top 10 pastry chefs in the country. I RSVP'd for myself plus 2 (Chad and Cesar), conveniently not noting my company's name, just in case organizers were tempted to put it on the nametag or some other incriminating bullocks like that.

Before I break into song about the rest of the night, I should note that my personality is a dual one; composed of a well-mannered, sophisticated side and an obnoxious, ill-mannered side. Contrary to what one might expect, the latter is the one who shows up at stuffy events. It's a rebellious son of a gun and it knows that more fun will be had if it attends these things. It's assumptions were right on point last night...

Seeing as how I am but a puppet to my obnoxious personality's every whim, I entered the event, popped a strawberry ganache truffle into my mouth, peered at the gift bags and declared, "Oh good, there are gift bags. I no longer attend parties that don't offer gift bags. We may proceed." I could tell that Cesar knew where this night was heading and he was more than down to come along for the ride. He glanced over at Chad and noted, "You have to see her in action. It's hilarious." Chad didn't know what to expect, but he caught on quickly when we found the bar. I was the evening's scheduled entertainment.

Free wine and champagne paired with people 'putting on airs' is about as fun as it gets for me. We bonded with the bartender right away - which, is probably the smartest thing to do at these things - and started ordering away. We came back several times, just a bit more loosened up with each trip. By trip number 3, Cesar couldn't decide whether he wanted a pinot noir or a chardonnay, so he ordered the "Red and Tan."

From here, we traveled to one of the kitchens where desserts were being plated. While we were standing in line waiting for a plate, I noticed a hotel pan filled with little clear balls in it. I asked one of the student chefs if they were tapioca. She replied, "Kind of, they're Thai bah-zil seeds" [Where "bah" is pronounced like the sound a lamb makes and "zil" is pronounced "seal"].

"What?" I asked three times before she cut the charade and declared, "Look, they're Thai basil seeds." It occurred to me minutes later that the head chef was French and this is how he pronounced the ingredient's name. She was probably from the Bronx - maybe Queens - but never Marseille. She was simply trying to imitate him. Even funnier than that was that she had agreed that the "Thai bah-zil" seeds were similar to tapioca. I looked at Chad and asked him how I was ever going to spell the pronunciation on my blog when I recalled the incident?

A short ceremony commenced to honor the pastry chefs for who this event was hosted. By this point I was double-fisting a chardonnay glass and a champagne flute. After walking into the small room, it actually occurred to me that I might look like a lush, so I looked at Cesar and Chad and noted loudly that, "I wish she'd come back, I'm kinda getting sick of holding her drink," then winked as I downed her glass. We headed back to the bar, where we bonded with some of the cocktail waitresses and handed the bartender all of the cash in our pockets (I think a total of $19 between the 3 of us -- me not included).

Time to collect our rightful gift bags. The man at the gift bag pick-up center started cracking jokes with us. Surely he could sense our coolness. He told us he was married to one of the servers from upstairs: the redhead. "We love the redhead!" I told him. After all, she was the one who placed her hosdeurves tray on the table and let us eat the whole thing. In effort to illustrate her coolness even further; he shared this tidbit with us:

"Yes, she put a mirror on our ceiling at home. Said she wanted to watch herself laugh. I put up a sign on the mirror that reads, 'Objects in mirror are bigger than they appear.'"

We laughed. I took a glimpse through the gift bag and thought aloud, "Just want to make sure it's worth my while." A free spatula, some chocolate, a pasty brush and a shampoo-conditioner-lotion concoction. It would do... I guess. Perhaps next time they will consult with me first. I'm very picky about my free stuff.

In summary, pretending you're a snob who is making fun of a snob is the best form of entertainment ever... For, remember kids: Mimicry is nature's preferred form of flattery.