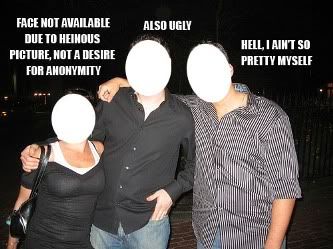 Life Regurgitated, Please Do It Ms. Hewitt, Those Are My Pants
Oh, now does that ever sound geeky? Why yes - yes, it most certainly does.
And, I guess that's pretty much because it is and was and forever will be.


This Saturday marked what can only be compared to as the "Geneva Conventions of the Blog World" (I've succumbed to the fact that this post is going to dig deep into my street cred reserve). Three blog master minds -
uh hem
- came together on common ground (Wogies - a bar in the West Village - which is not exactly Switzerland, but it was pretty international with the World Cup playing and all) to discuss the standards for international law for humanitarian concerns in the blogosphere (I can't believe I just said 'blogosphere.' Who am I??). In other words, we all met and got sauced.
Chad from

Those Are My Pants

was in town from Bahrain. Chosen from

Please Do It Ms. Hewitt

is always down to have a few drinks and, as you know, I tend to be an advocate of partaking in these kind of things, so I orchestrated the whole event. I introduced Chad as "Those Are My Pants" and Chosen as "Please Do It Ms. Hewitt." Chad noted that he had never been introduced by his website name, but the chills were indeed moving up his spine. Some of our much cooler friends didn't really share in on the excitement, but that didn't stop Chosen, Chad and I from sharing memorable posts from eachother's sites.
I've been talking to Chad over email for about 5 months now. He found my site because I tagged it with "Bahrain" and he wanted to start some type of blog circuit out there. He wrote about me and I contacted him, curious as to whether or not he was familiar with a court case that was going on over there (I used to write about the case in question, which is why I tagged my blog as such). He hadn't heard of it, but we've kept in contact nevertheless. When he came over on Saturday it was like I'd known him for years. This fact manifested itself in my ability to sit on the ground and watch the Simple Life while he chatted with my cousin about, well, the fact that we were sitting around watching the Simple Life. Chosen wrote me today asking if I really met him on the internet? Yep.
Anyhow, I'll stop blabbing before my street cred well is totally sucked dry, but I ought to let you know that we didn't establish much at our Geneva conventions; just that the internet is a strange place and that Sapphire, Absolut Mandarin and Stoli Razberi don't mix well. Oh yeah, and that if you clog up your sink with puke, Drano is your man.